Time Location Chart -
Time Location Diagrams
Time Location Charts
Time Location Charts

or

Time Location Diagrams

fall into a category of linear scheduling or location-based scheduling and are known by many other names depending upon the industry or region, other names (referenced from Kenley, Russell; Seppänen, Olli (2010). "Chapter 1: Introduction". Location-Based Management for Construction.) are explained below.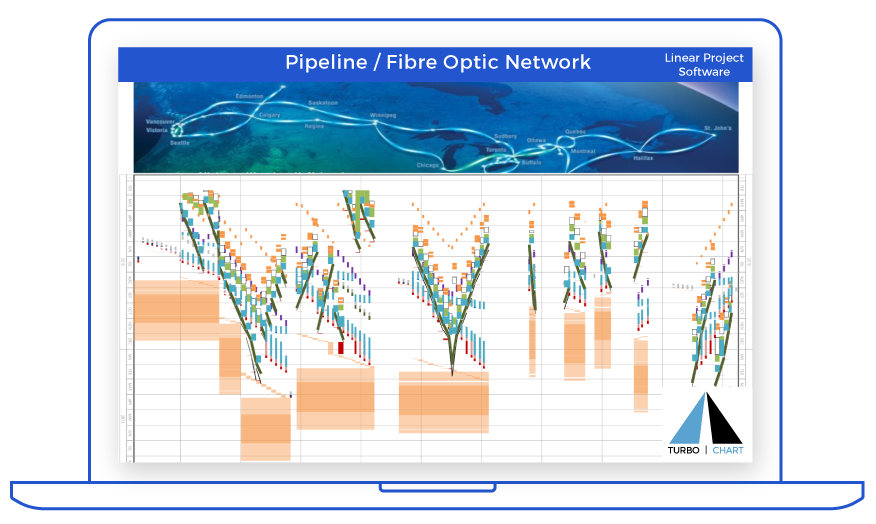 An Alternative Form Of Representing Project Schedules
They are an alternative form of representing project schedules that are ideally suited to linear projects where work progresses in a repetitive manner and/or in a continuous linear-direction over the project's physical location and also where works occur in fixed locations that interface with the linear works. Examples of linear projects include:
TRADITIONAL PROJECT BAR OR GANTT CHARTS
Features of traditional project schedule outputs are:
– Horizontal time axis, units of hours, days, weeks etc…
– Vertical axis uses a work breakdown structure that can be:
A static hierarchical structure (e.g. P6 WBS feature)

Develop a flexible flat or hierarchical structure using coding, user-defined fields (e.g. phase, discipline)

Single task per row

When used for location, requires defined discrete values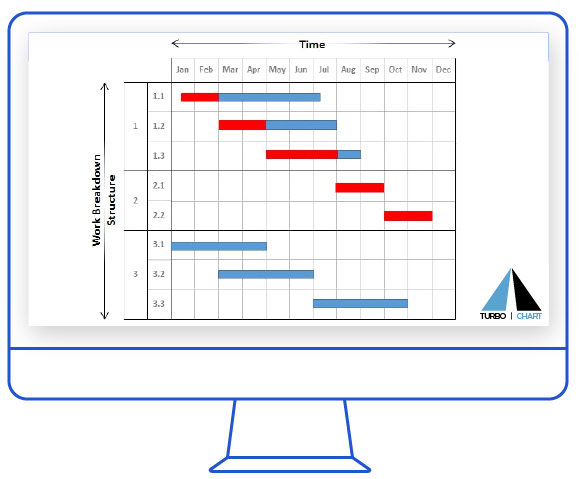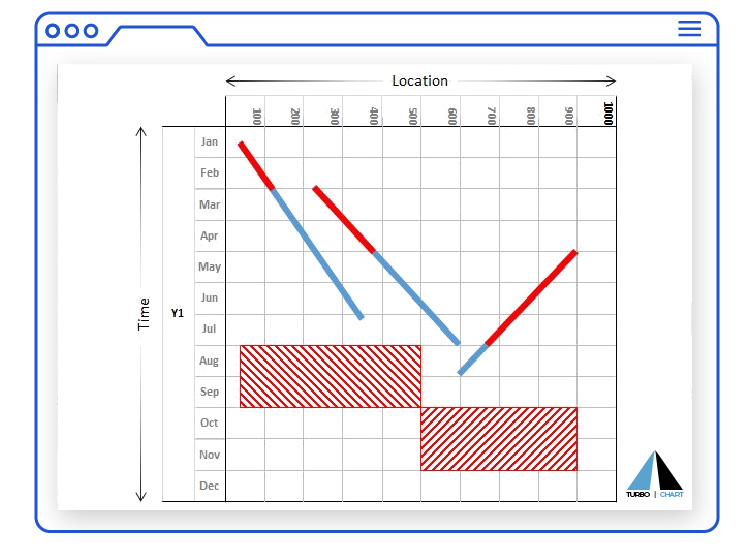 TIME DISTANCE DIAGRAM / TIME LOCATION CHART
An alternative project schedule output is to switch the axes and present schedule tasks differently, known as
Time Distance diagrams
or
Time Location Charts
:
Vertical axis now represents time

Horizontal axis represents physical work areas, using a continuous range from a defined start point to an endpoint

Schedule activities are shown progressing through the physical locations
Chart Features: Time and Distance Grids
Such charts feature two axes, that may be rotated to be either orientation:
Time as one axis, this may represent the entire project timeline or filtered to a specific period
Distance or location along the project physical alignment as the other axis, this may represent the entire project alignment or filtered to a specific location range.
Chart Features: Time and Distance Diagram Shapes On Activity Grid
The shapes used to represent project tasks have different meanings depending on the work they represent:
Shapes are the core element in the interpreting chart
Shapes with a gradient, such as lines represent a rate of progress for the scheduled activity being represented. Shallow equals fast, steep equals slow e.g. track laying
Shapes such as milestones represent events at a point in time, and can also indicate a range of locations over which this event occurs e.g. access to site
Polygons such as rectangles can be used to represent activities that occur over a given location span for a period of time, e.g. earthworks
Shape colour, thickness, patterns to represent the differing scope of work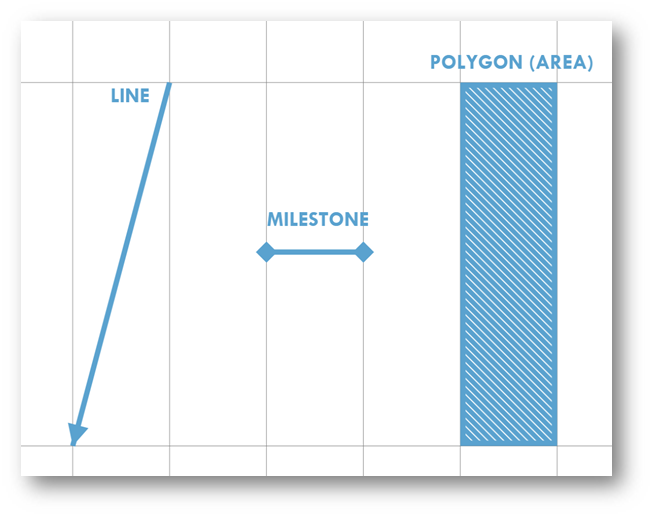 Time and Distance Diagram Shapes on Activity Grid – Gradients
Linear tasks progressing along the linear alignment are represented by shapes with a gradient:
Parallel bar shapes can be used to represent tasks that progress along with a project location
Time offsets can represent the task occupying a fixed amount of time as work progresses, e.g. concrete curing
Location offsets can represent physical space (location) occupied by the task as it progresses, e.g. Work train or limited spacing between tasks
Shapes can also combine both offsets
Non-Work periods represented as periods of no linear progression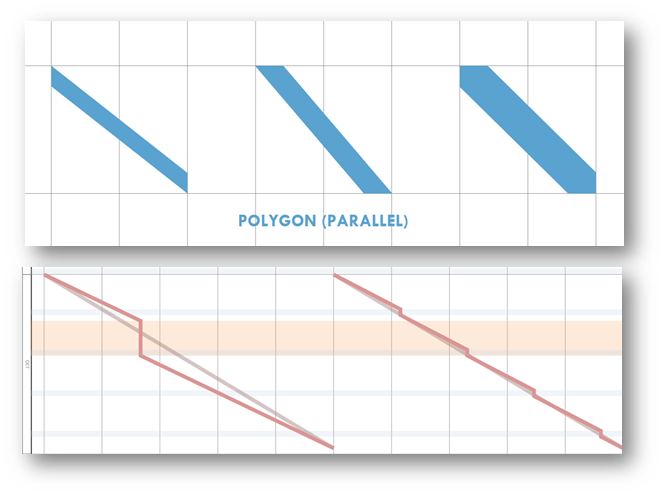 Time and Distance Diagram Shapes on Activity Grid – Triangles
Triangle Shapes can be used to represent works that occupy locations over time around them:
Triangle shapes can be used to represent tasks that progress along with a project location and that occupy time and/or locations in front or behind them, meaning other works will interfere if they are planned in the same area/time
Consider the examples shown. Task moves from a to b in time from t1 to t2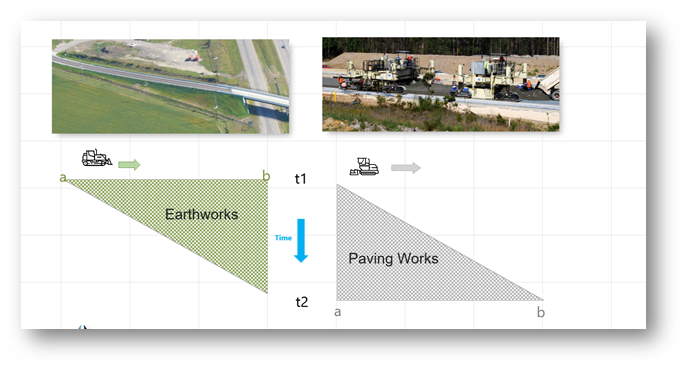 Chart Features: Activity Legend
Time Location charts are enhanced by the use of legends to assist in identifying the works
Chart Features: Orientation
It may assist in visualising the project to orientate the axes such that location is vertical and time is horizontal to assist in familiarising to traditional Project Bar or GANTT charts. The example below for a high-rise vertical building shows such an example: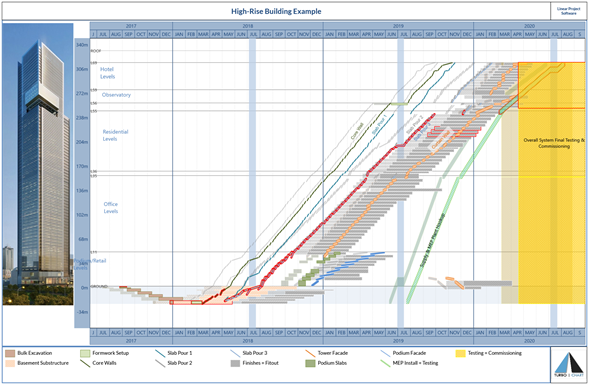 KEY FEATURES OF TIME LOCATION CHARTS